Saturday 24 November 2018
With Christmas just around the corner (I know, already?!), we've tried and tested some fun festive recipes to get your class into the Christmas spirit. Watch your class get creative (and a little messy) as they make these super-sweet treats for themselves, or as gifts for family and friends. As always, adult supervision is required for all recipes.
Ice cream cone Christmas trees - Makes 24 trees
Ingredients:
1 tub/packet vanilla icing/frosting

1 packet ice cream cones (pointy tips)

green food colouring (optional)

Assorted toppings (e.g. desiccated coconut, sprinkles, jelly beans, lollies)
Equipment:
bowl(s)

spoon

baking tray

baking paper

spatula
Method:
Place icing in a bowl. Stir in food colouring until desired green is reached. (Optional: set aside some icing in a separate bowl to make some 'snow' trees.)

Place cones on lined baking tray. Spread icing evenly on cones.

Decorate with chosen topping.

Eat and enjoy!
Reindeer cake pops - Makes 24
Ingredients:
450 g chocolate cake

75 g soft butter

150 g icing sugar

75 g milk chocolate (for cake)

300 g milk chocolate (for covering)

small pretzels, broken into antler shapes

red M&Ms

dark chocolate drops
Equipment: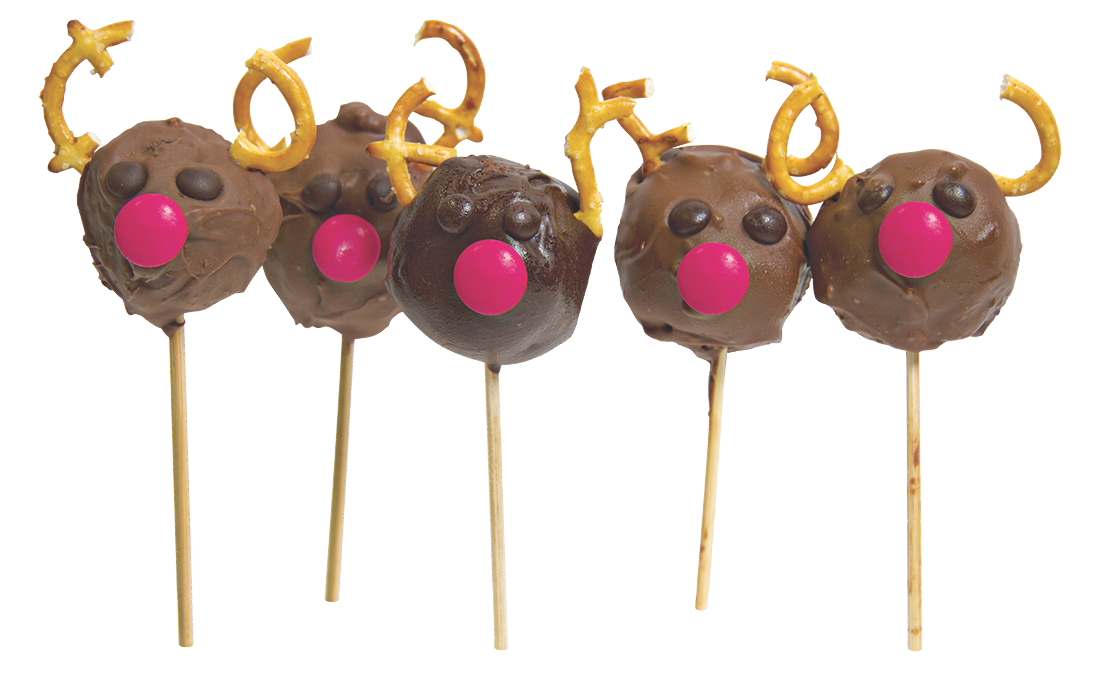 bowl(s)

electric beaters

microwave

spoon

baking tray

baking paper

skewers, halved

fridge

polystyrene block
Method:
Crumble the cake into fine crumbs with your hands. Place into a bowl.

In another bowl, beat together butter and icing sugar until creamy.

Melt 75 g chocolate in the microwave on medium heat, stirring every 30 seconds.

Combine the chocolate and butter and stir until smooth.

Add the chocolate butter to the cake mixture and combine with your hands until it sticks together.

Divide and shape mixture into 24 smooth balls. Place on linked baking tray and insert a skewer into each. Chill in fridge for at least two hours.

Melt remaining chocolate in the microwave on medium heat, stirring every 30 seconds.

Dip cake pops in chocolate. Gently shake excess off cake pop. Place in polystyrene block.

Push in two pretzel antlers to the top of the cake pop. Gently press two chocolate drops on for the eyes and one M&Ms™

for the nose.

Enjoy your lovely reindeer treat!
Download this full article as a PDF.
For more great end-of-term Christmas and cooking ideas, buy our range below.