Saturday 17 November 2018
Is it really that time of year again? The Christmas spirit will come flitting into your classroom in no time, and students will be hanging out until the holidays and that all important evening when the man with the stuffed sack comes down the chimney; but we don't have to wait until the twelfth month to celebrate! Have students make their own Advent calendars in the leading up to December so that when it comes, they are all prepared to count down the final days. Have a look at these handy, no-fuss calendar ideas that will have your students wanting the days to go on and on.
Santa Advent calendar
Materials: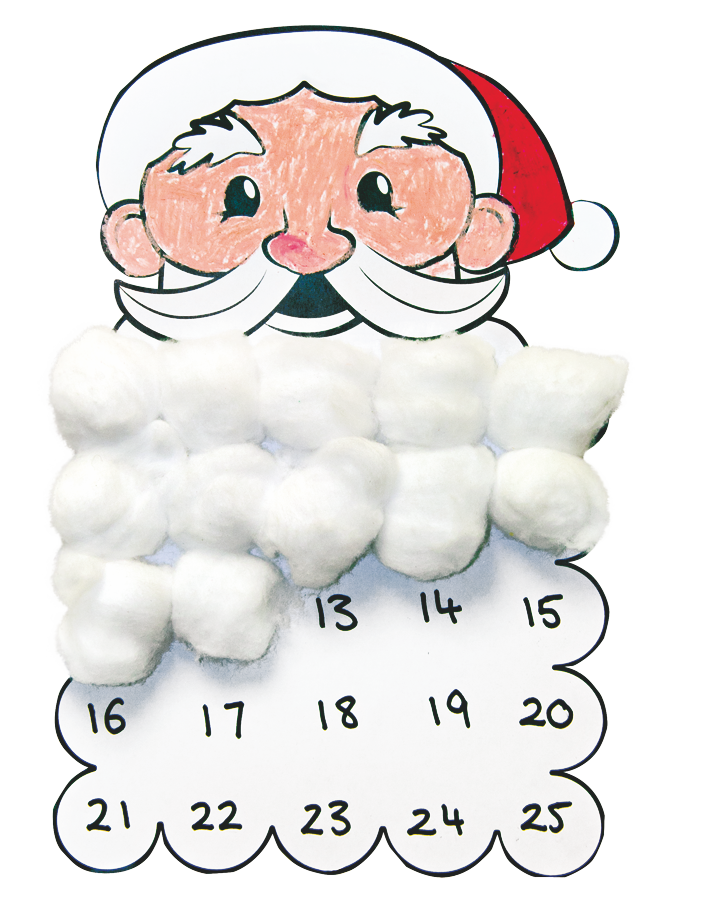 Santa template -

download here

scissors

cotton wool balls

coloured markers or pencils

pen

glue
Instructions:
Photocopy template and distribute. Students colour Santa's face and cut him out. With a pen, students write the numbers 1-24 on Santa's beard, leaving space between each number. (Younger students can write numerically, while older students can place the numbers at random.) Each day in December, student glue a cotton wool ball over the corresponding number. The closer it gets to Christmas, the bushier Santa's beard will be!
Christmas tree calendar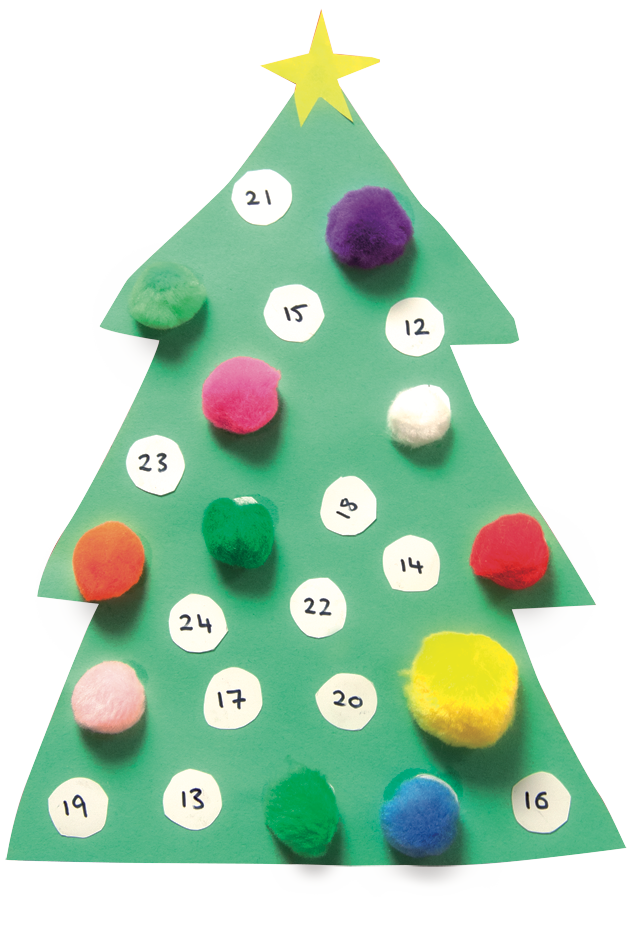 Materials:
green paper

coloured card for the backing

yellow stars

small circles (cut or punched out)

coloured pompoms

glue

scissors
Instructions:
Cut out a tree shape from green paper (use a template or cut freehand) and glue it to the backing card. Glue a star to the top of the tree. Write the numbers 1-24 on the circle dots and place randomly on the tree. On each day of December, students glue a pompom on the correct number, slowly filling the tree up. By Christmas Eve, students will have a lovely decorated Christmas tree!
Positive affirmation or class reward hanging calendar
Materials: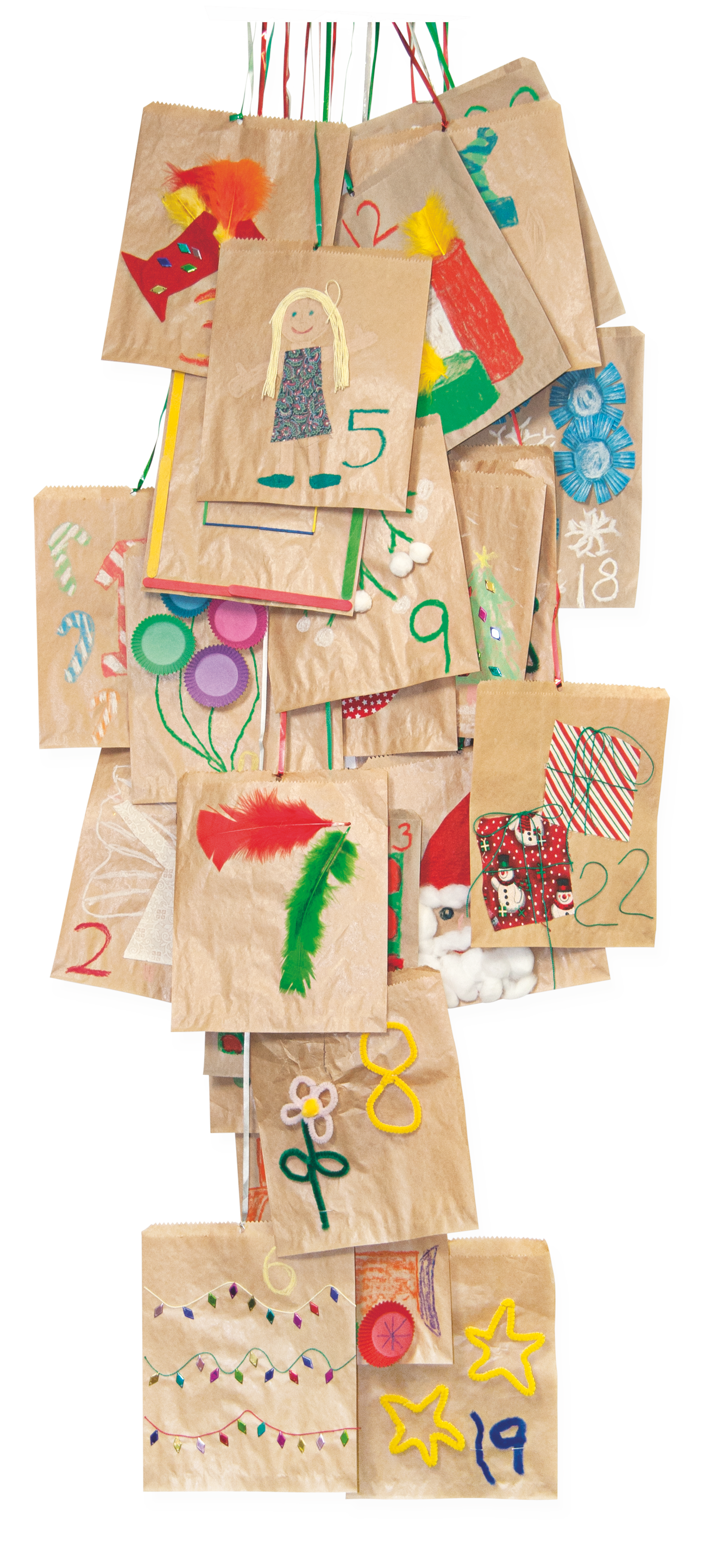 small paper bags (each student will need 24)

swizzle ribbon

stapler

coloured paper

coloured pencils/markers

craft items (e.g. pompoms, glitter, scraps of material etc.)
Instructions:
Pre-cut lengths of ribbon (24 per student, all at different lengths). Distribute the ribbons, along with 24 paper bags, to each student. Have students write the numbers 1-24 on the bags and decorate them as they line, using pencils/markers and craft materials. Students staple a strip of ribbon to the top of each bag. Tie all loose ends together in a knot. All the bags should be hanging at different lengths. Hang the calendars on display in the classroom. Pair students and have them write positive affirmations about their partner, which they then fold up and place inside each bag. During December, students receive an affirmation and can take their calendar home and continue to receive them until Christmas.
Alternative:
You could make one calendar for the whole class that counts down to the end of term (this may need to be started in November for schools that finish early in December). Instead of positive affirmations, have rewards, such as: 10 minutes free time inside/outside, choice of book for class reading or play a game such as 'Heads down, thumbs up'.
Download and save this article as a PDF.
For more ready-to-use Christmas activities buy our range below!