Every third week in October in Australia is dedicated to National Water Week, a time to raise awareness of the precious nature of water and how important it is to not take it for granted.
Why not use this time to practise creative and critical thinking skills, so that your students can become problem-solvers, and maybe one day figure out how to make water consumption more sustainable and accessible to everyone in the world?
Use this year's theme of 'Water for me, Water for all' to inspire a STEM project revolving around how to harness rainwater and provide access to the water for all those who need it. Set your students a challenge to design and create a model pipeline that can collect rainwater in one large tank and distribute it to various smaller tanks in surrounding communities. Alternatively, for the younger years, students can design a model pipeline to distribute water from a large tank to a small tank in an enclosed dog area on a large farm in order to make it easier to top up the water bowls for the pets. Students follow a design process similar to this: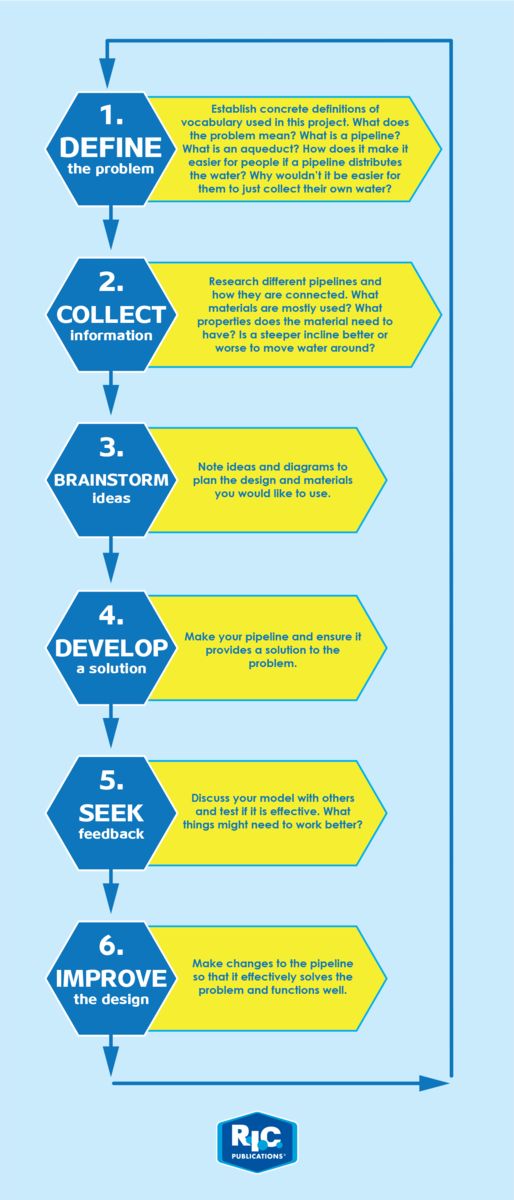 Don't forget to set some constraints. The following can be used, or amended to suit your class level and ability:
- The connecting pipes must be watertight.
- The pipeline must extend at least 100 cm.
- You may only use the supplies available to you in the classroom.
- The pipeline must start from a large tank and end at a smaller tank (or various smaller tanks).
- The pipeline cannot touch the ground.
- The pipeline must be able to actually transfer water to fill a small container at the end.